EXPERIENCE-LED TECHNOLOGY AT THE HEART OF A POST COVID-19 FUTURE
22.05.2020
Recent weeks have accelerated thinking and execution of digital transformation across almost every sector. It's often not about new thinking, but more rapid implementation of plans that have been developing for some time. The opportunity to enhance experience and service for customers through technology has become clearer during this turbulent time. One third of Asia Pacific CEOs are leading digital transformation themselves—but how much thinking have they put towards unleashing the right brand experience for their customers?
Experience is bigger than marketing
Leading luxury malls and retail destinations across Greater China such as Pacific Place, Taikoo Li, K11 Musea and One ITC leverage experience-led technology to deliver unique experiences and service to their customers. Designed for content-driven global millennials, they think beyond simple promotional marketing and wayfinding and focus on how to bring their brand proposition to life digitally. They also focus on the value of connectivity, allowing shoppers to connect with the community around them, and with tenants, which adds value to every stakeholder. Using technology to create positive friction—memorable experiences that make an impact on customers' lives—compel them to come back and engage more.

TAIKOO PLACE COMMUNITY MOBILE APP (TOP LEFT); K11 MUSEA'S EASTER ONLINE ART JAM (TOP CENTER); TAIKOO PLACE MUSIC AT THE PARK (TOP RIGHT); K11 MUSEA FUTURE OPERA SPACE (BOTTOM LEFT); ONE ITC LIVE MUSIC (BOTTOM CENTER); PACIFIC PLACE ULTIMATE SHOPPING APP (BOTTOM RIGHT)
FITCH is at the forefront of experience-led technology
The FITCH philosophy has long been about creating seamless connectivity between physical, human and digital touchpoints to created true omnichannel experience. At the centre of our approach is a revolutionary methodology for codifying experience based on a balance of fundamental human needs of Comfort, Belonging, Independence and Progress. Data allows us to identity the right themes and create a unique experience signature.
Read more on how brands like Nike, Brewdog, Dyson, Amazon and others apply Experience themes into their digital campaigns and inventions.

NIKE "PLAY INSIDE, PLAY FOR THE WORLD" CAMPAIGN (TOP); BREWDOG ONLINE BAR (BOTTOM LEFT); DYSON NEW VENTILATOR DESIGN (BOTTOM RIGHT)

In Asia, we are proud to have delivered some of the most innovative digital transformation projects in the region through the past two years.
Bulgari
Luxury retail has traditionally been very much about beautiful physical environments and great service. In a country the size of China, this proved somewhat restrictive in terms of reach. We created a grounded-breaking omnichannel strategy that seamlessly added ecommerce and social media to enhance the wider physical retail and human service model with great results.
Lynk & Co
When Geely and Volvo created a new mobility brand, they wanted it to be digitally native and to challenge established conventions in the automotive sector.
Lynk&Co
achieved just that, with different business models focused on leveraging the sharing economy and new ways for people to engage with the brand digitally, all conceived, designed and developed by FITCH.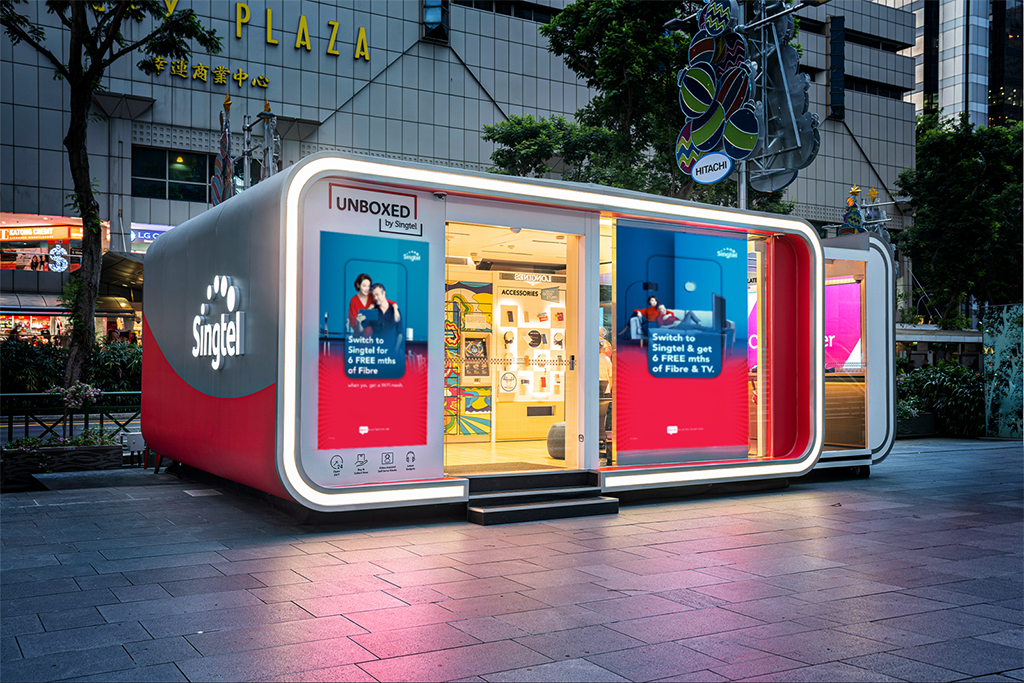 Singtel
Asia's leading mobile network provider wanted to transform the way they engaged with customers at retail. Starting with their flagship Singtel Comcentre store, we helped create the '
most intelligent store in Asia
' which completely reinvented the concept of service in a retail environment. We then developed the ground-breaking and multi-award winning
UNBOXED
, a 24/7, portable and completely unmanned store that allows Singtel to reach into the wider community to add a new level of convenience without losing any of the great experience from the Comcentre flagship store.
MXP
Recognising an opportunity to transform the experience in malls and other large public spaces, we developed a game-changing digital platform for the next-generation of destinations, from shops, malls and offices to airports, entertainment spaces, sports venues and museums. This platform allows brands to connect with customers more meaningfully and seamlessly, anytime, anywhere through connected digital touch points, making places smarter, more immersive and agile.
Already implemented in leading malls throughout Greater China, last year we launched the platform in the Middle East with an executive roundtable. The event featured leaders from major Middle East Mall developers and guest speaker Henry Bott of Swire Properties who shared that "the beauty of the
MXP platform
is that we can share a common engine across the malls, whilst allowing each to tailor their individual front-end experience."
Cally Williams, Managing Director of FITCH Greater China, commented, 'We have long recognised the role that technology can play in transforming brand-led experience. Over the past decade we have built a world class technology team, something quite unique for a brand consultancy and something that we are very proud of. We welcome the opportunity to discuss how we can help transform your brand experience.'
By Joyce Craddock, Business Development Manager, FITCH Hong Kong