the New Normal
26.03.2020
Dealing with the new normal
Social distancing doesn't mean socially distant
Survival Mode
In these dynamic and unsettling times, it makes us all think how we, as leaders and brands, communicate and behave in these troubling times. Do we panic and run for cover or do we stay the course and show confidence to our teams and our customers? Within times of crisis there is always an opportunity, by working from home with our eyes and ears to the ground we can provide invaluable information and insights from each market. Which brands are more impacted than others? How is consumer behaviour changing and what is it affecting?
Turning up in times of trouble
How do brands keep their promise in these trying times?
This is what the current situation reminds us about every single day. We should view COVID-19 as a unique opportunity to connect with our audience, to create long-lasting relationships with truly helpful ideas. We have an opportunity to build strong brand awareness in a moment where people spend more time at home than ever before, time that is probably spent online or on phones, now is the time to bridge social distancing and human proximity with your brand.
Privacy vs. Connectivity
Keep customers updated without becoming intrusive
Great brands function like your best friend, they are there for each other and assist. Inform your customers proactively about your updated policies (e.g. business times, cancellations, refunding). Show your community that you can act responsibly. Transparency here is key to building fruitful and long-lasting relationships. This is not about sales but about sustainable customer management.
Re-strategy
Don't do business as usual.
Changes in people's lives and environments instantly affect paid strategies. The COVID-19 crisis has put all of it into an uncertain reality. Consider replacing your tactical campaigns with a brand campaign to be top of mind for when normality returns again. Start crafting your messaging around consumer assurance rather than product benefits: highlighting your values, attitudes, and contribution to your community and society.
Formula 1 teams, for instance, have grouped together with carmakers and aviation groups to meet the critical shortage of ventilators to treat victims.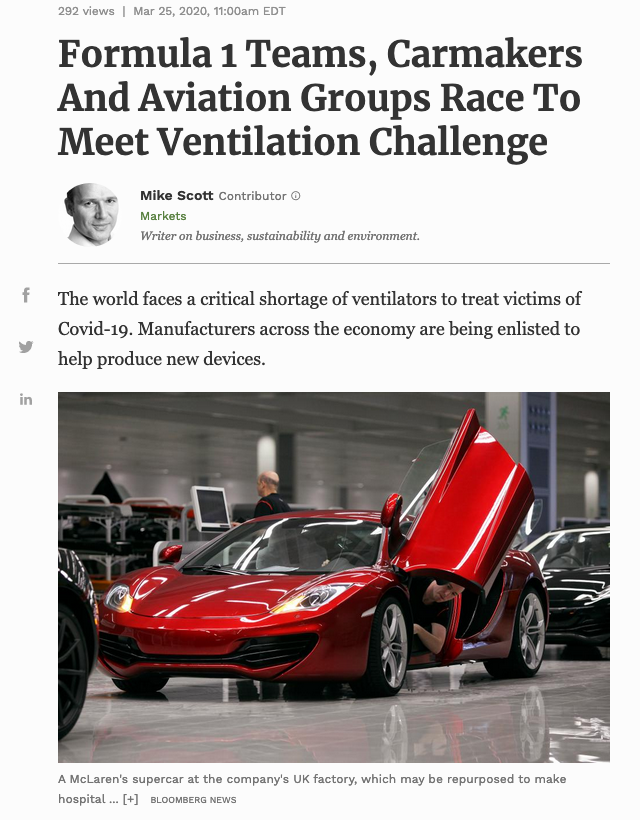 In times of limited public entertainment, people are more likely to turn to social media to spend their time. Start a podcast of something that moves your brand. Launch a webinar to discuss things that truly matter to you as a brand. This is the time to master the content marketing world and generate leads when they are most needed, which can then be monetized once the situation has calmed down.
Transform
When pressure fosters creativity
This is how great ideas have thrived and always will thrive. As you can't change the current situation, let the situation change you. If your current way of doing business is under threat, make this an opportunity to challenge the status quo and disrupt. Create your own home delivery service, introduce a new way of contactless food delivery or turn your shop into a live-streamed wardrobe. Create something that people will truly remember and turn back to later.
One final thought, consider your brand's role in people's lives and communities. Brands need to start thinking about their purpose and the benefits they bring to society as a whole in order to stay connected and relevant in these testing times.
Stay home and stay healthy.
By Quentin Berryman, Design Director at FITCH Singapore